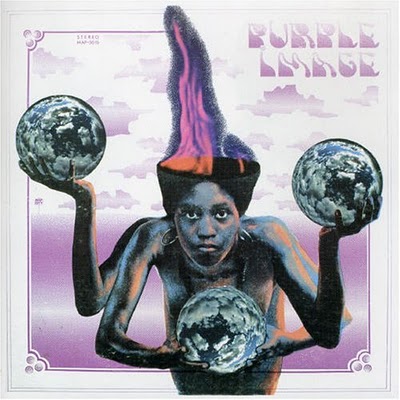 Continuing on this funk hunt- here's the sole release and 1970 debut of Cleveland super-heavy psych-funk outfit, Purple Image. A lot has been made about just how rock-oriented they are, working less within the more dominant (for black artists) soul idiom of the time, but that only serves to obscure just how
funky
this album is. Still, it's worth noting that at its heaviest moments, it's as heavy as Jimi Hendrix
a la
"Machine Gun" or The Stooges on
Fun House.
And like on those examples, even at the height of heaviness, it's not just heavy metal excess- it's hard and mean and direct, and still ultimately groove-based. Truly a Black Rock Beast, is
Purple Image
.
The highest highlight for me is the opener, "Living in the Ghetto", a rip-roaring series of ghetto tableau ("Mama's in the kitchen cookin'
midnight supper!
"), punctuated by utterly wicked electric guitar "Machine Gun"-isms. You might actually hear specific licks swiped from "Machine Gun", a worthy source to quote if ever there was one, and it enriches the track's dialogue between Black Music and Heavy Metal. (Come to think of it, I think The Stooges said they were cribbing "Machine Gun" when they wrote "Dirt" in this same year, to continue the
Fun House
comparisons.)
The other enormous highlight of the record is a monstrous version of Bob Craig's "Marching to a Different Drummer". A thrashing, relentless, fifteen-and-a-half minute onslaught that starts out as a funky singalong, then mutates into a psych-rock apocalypse, complete with a free-jazz saxophone to drive the guitars into chaos, and a crunchy harmonica infusion near the end.
Follow the link to Digital Meltdown and grab this bad puppy (at 256), then check out the equally great Fugi record he has there (
Mary, Don't Take Me on No Bad Trip
) and the especially excellent
Black Merda self-titled debut
, as well.
PURPLE IMAGE