Here's a wonderful jewel of Italian soundtrack Exotica from Mr. Piccioni, a prolific legend of the craft. I'd previously enjoyed the man's work on various Spaghetti Westerns and the like, and first became aware of him through the many excellent selections of his on the
Beat at Cinecitta
comp, but this is a one-of-kind treat, because it is so firmly Exotic.
It's from '68, and it's an Italian film soundtrack, so it's not standard fare Exotica. It's more similar to Roger Roger and Nino Nardini's
Jungle Obsession
or Piero Umiliani's
Le Isole Dell'Amore
than anything by Les Baxter (although his own soundtrack to another 1968 film by the name of
Bora Bora
isn't far off). These more extreme derivations from-- and later-era interpretations of-- a typical Exotica format are always a treat.
Anyway, this record is great. Lush vocals, borderline-trippy, dreamy orchestration, and a few really excellent compositions make this a must-have. I have to say, I don't much care for the fuzz-funk library-style jam on "Blue Festival," but that's the only stinker in my book. I'm sorry to say I haven't seen the film, but if anyone out there has, I'd love to know what you thought.
BORA BORA
(Sleepy Lagoon link is dead, so I've re-upped it)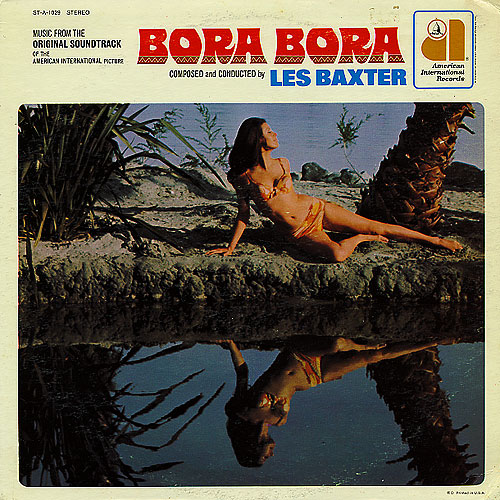 And speaking of Mr. Baxter's 1968 soundtrack to
Bora Bora
, here it is. Not his best work, but certainly some of his best
later
work. After spending some time away from the Exotica sound he helped create (and sounding fairly lost in the process), this record is something of a return to form, although the aesthetic here is not
quite
classic. There's a more modern drum sound, and a bit of a sense of the influence of someone like Burt Bacharach. The lush strings playing against the drum kit/ heavier percussion-and-bass lends it an interesting
coolness
, an almost contemporary sound, at its best moments (and at its worst, something of an unremarkable sub-Bacharach B-movie soundtrack-- thankfully, these moments are more rare).
I believe I got this rip from
Xtabay's World
, and while it's at a mere 128, it's a very respectable vinyl rip.
Eclectic Synthetic
seems to think he's improved on the Xtabay rip, so you might give it a try (I haven't heard it myself), but for now here's the original. If you have a better copy, consider sharing it, if such a share is your cup of tea.
ReUpped:
BORA BORA