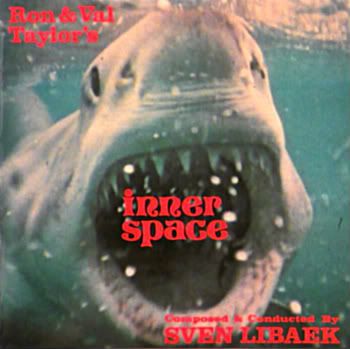 Sven Libaek is one of my favorite composers. His best work achieves a quality to be highly valued in instrumental music, creating a kind of background-ish music that can't be ignored or appreciated
too
passively, sounds that are so evocative and transportive, they insist on becoming the active soundtrack of your existence. When listening to his tidy little library/soundtrack compositions, you are
living
a nature documentary, the kind with washed-out film, paternal narration, and antiquated, not-American-sounding music. I mean, I guess a lot of his stuff
is
literally for a documentary soundtrack, but it's notable that it translates so strongly, even away from its intended context... it's so archetypal and unique at the same time that it just floods your brain with sensation, like a childhood memory of watching Jacques Cousteau (whose music was never actually this good). One of my favorite things to do is just walk out into the desert, or row out on the water in my little boat, with my trusty little tape player and my Sven Libaek tape, and just experience nature through the lens of his soundtracks and the fantasy of a bygone day of nature docs and old-world naturalist explorers.
I've already posted some of the most essential Libaek work,
Ride A White Horse
and
Nature Walkabout
, as well as his symphonic masterpiece,
Australian Suite
. Click the Sven Libaek tag below to call these beauties up, and get them if you don't got them. The first two are especially key.
Here is another essential:
Inner Space
. It's a hard record to find because of a compilation reissue of the same name that came out a while back.
This is not that comp.
This is the soundtrack to Ron and Val Taylor's shark documentary,
Inner Space
. (Thanks to Marcellus Wallace for the rip.) Fans of
The Life Aquatic
will recognize some of the tunes featured here, as they were pirated for the film's soundtrack (to excellent effect, in my opinion). The music here is some of his best work, light and jaunty like sunlight dancing down through the water, with the occasional dread menace of a shark shadow crawling through the compositions. Fans of "underwater music" will find this to be the tip-top of the genre. The only thing holding this record back is that some of the tracks feature excerpts of William Shatner's narration for the film. It's actually great stuff, that old-time narration style in warm tones and purple prose (with none of the chewy hamming one might expect from him), but it does disrupt the instrumental flow of the underwater fantasy ride. But don't let a little thing like that stop you, because this is a sonic masterpiece, and the best most perfect option if you need a good shark hunting record. So worth having, you guys.
RON & VAL TAYLOR's INNER SPACE
Here is
My Thing
, one of two Library records he made in the early 70's. It's not as excellent as it could be, featuring a few too many of the trashy horns that are common to funk-library recordings than I would like, occasionally getting too far away from the pristine sonic worlds of his best work. That said, one of his all-time best tracks can be found here, the immaculate "Misty Canyon," a two-and-a-half minute masterpiece. At least half the record, if not more, is as strong as anything he's done, making it essentially fucking essential, if you're a fan. There's some roadkill here, but mostly just cool, refreshing, sonic diamonds. If you only have four Libaek records, make this number five.
MY THING
Solar Flares
is a similar situation, another Library record, this one on the theme of outer space (although the feeling is occasionally more reminiscent of deep sea). This time the party is occasionally pooped by noodly jazz-funk guitar workouts and some chunky Italian synth farts, but the whole session is ultimately worth hearing, not only because of Libaek's typical sophistication, restraint, and ability to make something perfect, but also because of the occasionally delicious sounds of some rare kind of synthesizer prototype that synth nerds love. I haven't got the inclination to care about names of synthesizers (not that there's anything wrong with that), but I do love sounds.
Oh, how I love sounds!
Not the
most
essential Libaek record, in my book, but a worthy one for any collection.
SOLAR FLARES
That does it for the Sven Libaek records that I have that I love. Internet, can I beg of you a favor? Can someone point me to a download of Mr. Libaek's
Boney
soundtrack? Pretty please? I can not find one, not anywhere, no sir. Throw me a bone, if you please, and help me find
Boney
.
ALL THESE LINKS ARE DEAD. I DIRECT YOU NOW TO THE NEW LIBAEK MEGA-POST.