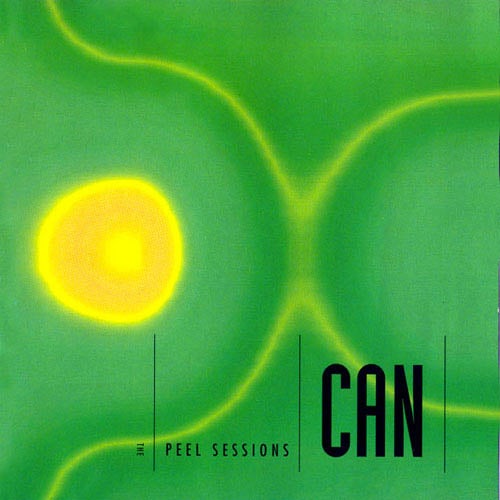 Ask me point blank who the best band is, and I will say Can. Of course I would balk at having to make such a snap decision, on such a broad topic-- but even after deliberating lengthily I would come to the same conclusion.
Can is the best band.
If you are unfamiliar with Can, I suggest for your sake that you end your age of personal darkness, and begin life anew with the aid and knowledge of the best band to fall under the "krautrock" tent, and possibly the best band of the 20th century. Featuring one of the greatest and most inventive guitarists of all time, Michael Karoli, the best drummer in the world (a human drum robot with encyclopedic ethnic rhythms and total genius: Jaki Liebezeit), absolute all-round genius Holger Czukay, and keyboard warlock Irmin Schmidt, these wizards, new gods, and pupils of Stockhausen rewrite psychedelic rock as a high art form of avant-ethno-minimalism while keeping all the primitivism, improvisation, and lost-in-space mega-jamming that tends to characterize the genre and give it its pulpy allure.
I would suggest starting out with
Tago Mago
(avant-garde primitive bashing psych)
, Ege Bamyasi
(trippy, almost pop incarnations of
Tago Mago
's savagery with a touch of future jazz), or
Future Days
(a stunning work of unfathomable beauty and atmosphere, a perfect record in my opinion): the three proper albums to feature the mad Japanese dervish of vocal improvisation, Damo Suzuki, on vocals. Those three albums are clear-cut masterpieces, but everything they put out-- from
Monster Movie
to
Landed
, anyway-- is brilliant.
Whether you're just starting out or looking to take your Can obsession to further depths and deeper heights, this Peel session is gonna make you happy. Only one of the six tracks is a previously existing song, which means this is basically a new Can album from some of their prime years.
This is such good news.
Being compiled from sessions which took place over a few years means it has no cohesive "album" feel, but it ends up playing like an alternate universe version of a greatest hits record, starting with a Damo song and ending with a song from
Landed
and something that sounds like it should have been on
Flow Motion
, except it's
too
good.
Typically, when recording, the band would improvise, then edit; this being a Peel session, it has a loose, live feel and gives you a sense of how the band might sound before they take their knives to the songs, before Czukay starts playing tape tricks. It's not
better
, per se, but it's interesting and very enjoyable. One might get a similar sensation when listening to Captain Beefheart loosen up a bit on
The Mirrorman Sessions.
This is worth it for the first track alone, a blistering workout with Damo Suzuki on vocals and a blasting guitar that's heavier and wammier than you usually hear from Karoli during this period.
Oh, you should get it, man, but also go get
all
the Can.
Can PEEL